Fashion Management Strategies: Key Insights for a Successful Career
Master the Art of Fashion Management with Proven Strategies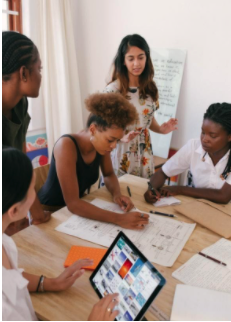 Fashion as an industry is growing and with the changing growing times, it requires the apt skilled and successful strategies for the management of fashion in the dynamic scenarios. Innovations and proven strategies help the fashion industry to aid sustainable right growth.  Strategy implementation demands the right allocation of recourses to utilize the viable potential of the fashion firm in the competitive market.  
So for the better indulgence of the Strategic fashion management, this is an imperative concept to understand. It can be comprehended as, "a systematic process of conducting an environmental analysis, strategy formulation, strategy implementation, and making required adjustments based on the feedback to achieve long-term goals in fashion and fashion-related industries".  As a fashion specialist, you can grasp a bit but for the easy, simple understanding you need to go through this blog. 
1. Differentiation Strategy 
This strategy is based and aims at the distinguishesness to the firm's fashion product and services from the other similar fashion apparels and customer support services offer by the competitors in the market. Its emphasis on the uniqueness of the fashion brand's offering in the market. The differentiation strategy works at two different levels, strategic position and strategic action. The difference in the value perceived by the customer leads to the enhancement in the total customer value. This helps the fashion brand to manage and sustain in the market for the long run. 
2. Cost Advantage Strategy 
This strategy mainly focuses on the lower-cost production of fashion apparels and accessories. This can be achieved through the large scale production by fashion firm in the market by which they can take advantage of the economies of scale. If any fashion firm explores this strategy then it gives them the opportunity to keep the selling price low compare to the competitor, which cannot be copied. 
This strategy based on the fashion firms narrows down the target market segmenting of the fashion products and services. This can lead to successful fashion management in the market by creating such fashion apparels, accessories and services, which cater to the specific special need of the customer. Focus strategy is very important for any fashion firm to understand because it helps to establish the fashion brand in the market. 
Let's understand this with an example. Louis Vuitton as a successful brand and fashion firm in the market employs the strategies for fashion management. Louis Vuitton advantages rely on both strategies of fashion management, differentiation and focus strategy. This biggest fashion firm is able to be a leader in the luxury market and command premium prices through product uniqueness and differentiation.