POPULAR & TRENDING HAIRSTYLES FOR WOMEN
One's hairstyle or hairdo is rightly described as one's 'crowning glory, and for very good reason. An expert hairstylist or a creative stylist (as they are known as at branded salons), can transform a look, giving a customer the perfect hairstyle based on the shape of the face, texture, and what is trending at the time. With each on-coming season every few months, a set of hairstyles 'up' the fashion quotient. These could be classic from the yesteryears, something versatile and timeless, or newer variations of styles we have seen before. While some hairstyles are termed 'in', others may never have gone 'out'. It's like color trends are newer, fresher when a change is sought. What definitely start trending and become fashionable are celebrity styles, street styles, and Instagram celebrity styles – others emulate. Here are some popular and fashionable hairdos making 'heads turn'!
Majorly trending is this is the classic and professionally done – the French Twist. This is a style that has a timeless quality and popular among professionals, and variations of the same can look formal, stylish and dressy.  A slightly loosely worn or with casual framing by using a few loose strands, this remix adds much sophistication and modernness to this age-old favourite. Polished and adaptable to slightly different ways of wearing, the French Twist is full of curves that are soft, unfussy and very alluring.
Chandelier Layers are suitable for those with medium to long hair, and hair texture that easily takes to styling. Easily adaptable for any form of face and hair colour, when cut correctly in layers, the Chandelier Layers fall freely and remain layered without flattening for one whole day. This hairdo consists of long layers at the back, with smoother and softer layers on the sides and front. How they frame the face is key and creates a luxurious mane with just a few quick flicks using a hair straightener. A certain amount of expertise is required for the layering, best available at a salon. For a glamours, 'evening out' look, just go for it.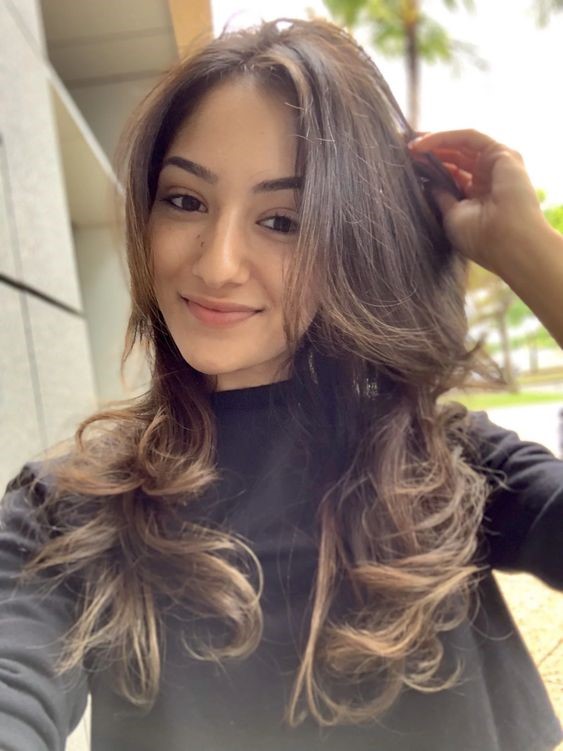 A floating fringe is worn at a length that falls right above the eyebrows. A fringe transforms a look Sometimes a simple fringe is all that's needed to transform a look totally. A fine example of a Floating Fringe is seen on Dua Lipa (extreme left image). The look can be serious and playful at the same time. It is worn at a length which is manageable and can be blow dried to fall smooth and straight or cut in a manner to look choppy. It's a perfect combination of style with 'no fuss' simplicity – ideal for the convenience it offers, especially in today's times.
"The Rachel," hairdo made popular by Jennifer Aniston in the Friends TV series of the late 90s and early '00s. Perfectly cut layers, worn short and given a good blow-dry make sections smooth and curled under. The Rachel is popular the world over, resonating among women due to the style offering motion to produce a modern and a beautiful look that frames a face flatteringly. And of course, you have to love Rachel's character that fans did and do for so many years. 
One Length hairstyles are trending and can be worn long, best seen on Kim Kardashian, or neatly cut into a short bob – it's a more modern style, when compared to other textured and tousled ones. Falling in line with this year's theme of being all about 'structure', this polished look is a winner. Stylists see a preference for shine other than matte, and thick blunt cuts instead of broken lines, and textured haircuts.
This 'quick fix' style to looking chic, has been tried by celebs and all those wanting a fashionable look with zero fuss. The bob must suit the wearer's personality, but it does transform a look in a positive manner. The bob needs an expert's handling and is laborious while cutting. The end result, either blunt or one-length, or short and choppy, the perfect one is timeless.
Long bangs in addition to their shorter versions, are long forehead fringes that are eye-covering. Stylish and adding to one's glam quotient, it's a popular style with the fashion-conscious, young and young adults. 
8. Braids, Cornrows, and Bantu knots
That braids have had their fair share of publicity this year with tennis star Naomi Osaka adorning the look at the Tokyo 2020 Olympics, proves its current trendiness in pop-culture. Braids come in interesting varieties and are attractive with accessories like scarves, trinkets and headbands. Cornrows and Zulu knots offer the same appeal and will continue coexist with other timeless hairstyles. Works well especially on ethnic hair.
This layered stylish cut has remained a long-time favourite, and now even more so as a one-length cut. A sharp blunt makes a loud impact. Those looking for something special can opt for this look. Hugely popular, bobs have notched up their attractiveness by selecting blunt accents around the face. Blunt cuts have the same effect with most lengths. A super-simple cut which creates a bold 'wow' statement. Big advantage is its 'easy to handle' quality.
Hairstyles popular and trending must suit the wearer. Custom cutting and salon styling and colouring will be the way to go. While hairstyles reflect personal tastes, consulting an expert and re-imagine beauty.