LAMPSHADE IDEAS FOR A COST-EFFECTIVE MAKEOVER
Sometimes home décor needs that little bit of panache that serves as an effortless makeover. One way to bring about a small change that would impact the look of a room is an attractive accent piece. Changing or adding a new lamp shade or two, breaks the monotony. It's refreshing, and easy on the wallet.
All it requires is a little bit of creativity and perhaps a fun DIY project. Pick a lamp shade to change or to refresh for a spruced-up and personalized space in the room. Choose a colour or texture that would blend in with the rest of the décor. Here are some interesting makeover ideas you can attempt with material that may already exist at home.
1.POMPOMS
By adding self-coloured pompoms to a lampshade arranged in a pattern, it would add texture to an otherwise vanilla lamp shade.
2.STENCILS
Use your favourite quotation or adage and create stencils. Cut out letters out of card stock and use them as a silhouette as seen in the images below. When lit up, it is bound to turn all gazes towards the light source. It can be soothing especially if it's a soft glow. Get a dreamy quality with this look.
3.FLOWERS
Pretty and feminine, any craft store will have these readymade flowers in various colours and shapes. Available in silk, paper or fabric, choose a material that is easy to clean. Adds a nice touch to a lady's room, or her favourite corner, or her side of the bed.
4.BUTTONS
Every home has a needlework box, and at times just a box full of colourful buttons of all sizes. On a plain neutral coloured lamp shade stick these colourful dots all over. And if the rest of the colour sc4heme is neutral, then this piece will look as decorative as a Christmas tree!
5.RUFFLES
Ruffles are dressy and now a trend. It adds a formal look to a room, but must blend in with the rest of the décor. Ruffles can be created at home using a sewing machine or bought from craft stores. Once colours and patterns are selected, the ruffles need to be glued on to the shade, in layers. To get an ombre effect, different shades of the same colour may be used.
6.LACE
Fragile and feminine, lace is classic and a lamp shade done in lace adds value to a room. This object would go well with a room furnished with antique furniture. Lace doilies can also be used as a stencil to create the lacey effect. It gives a nice old-world look, and interestingly create intricate patterns when the light shines through.
7.MAPS
For a travel themed look, get a map of your favourite places visited. render the same on stiff paper to shape into a lampshade. In this image, ribbons have been used to add borders to the top and bottom edges of the lamp shade.
8.KIDS' DRAWINGS
Ideal for a kid's room and personalised with depictions of their very own handiwork. Drawings may be done by kids on parchment paper, using crayons, felt pens or paint. Cut out the artworks and stick them on to the shade. Or as an alternate method, the drawings can be done straight on to the lamp shade, if carefully supervised by adults. This is an easy fun session involving the entire family.
9.OMBRE
By grading colours of the same shade from light to dark, you can create a dramatic effect when the light shines through. Without the light, it offers a contemporary look to a room.
10.HAND WRITTEN MESSAGES
Take a permanent marker and keep writing all across a plain, neutral coloured lamp shade. It personalises the décor piece. It can be a terrific gift for someone, with a nice warm message. This rendition offers a vintage look as well.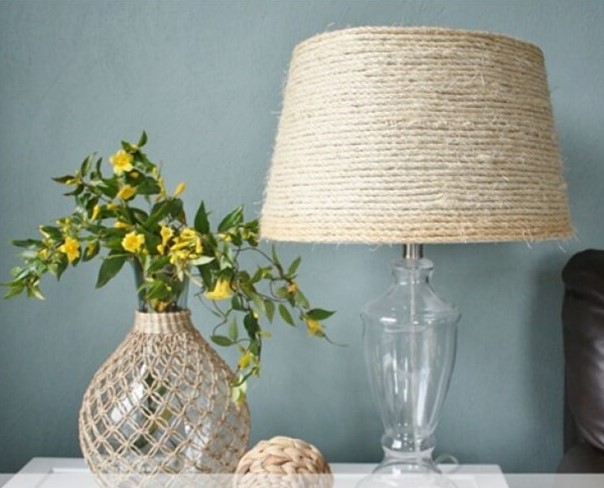 11.TWINE TEXTURE
Simple and charming is what this twine textured lampshade can be best described as. A no-fuss DIY, which involves neatly winding twine around a lampshade after applying glue on the surface of the lamp shade. This natural and eco-friendly item creates a nice contrast over a clear glass stand.
12.WINE GLASS LAMPS AND SHADES
A nice way to use up wine glasses with stems is by covering them with stiff printed parchment paper. A set of three on a polished wood surface looks dainty. A small tealight can be placed inside to light them up. Use them as is as decorative pieces, they look dressy.
While these lamp shade ideas are for use with table lamps, the same can be done with hanging lamps (from the ceiling), and bracket lamps that are fixed off the walls. Good idea for standard lamps too, that are tall and placed on the floor. These designs are creative and mainly homemade, where materials already lying around the house is used. These can be changed and altered as and when desired.