HOW TO MAKE A SMALL BALCONY YOUR OASIS
HOW TO MAKE A SMALL BALCONY YOUR OASIS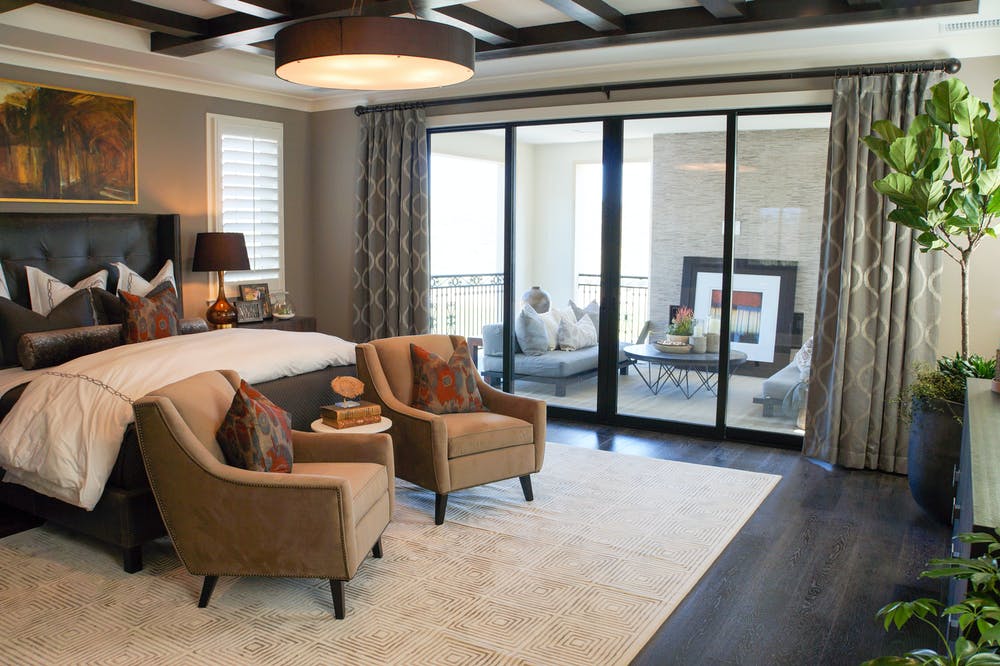 Pic 1 A welcoming balcony awaits beyond
Recently, during these pandemic times, one saw the value and importance of the ubiquitous balcony where friends and neighbours interacted with one another from their respective balconies, staged music concerts, organised get- togethers, exercised and where the concept of home-office took shape. These activities were possible under social distancing norms, all because of the balcony!
Doing up a balcony no matter how small and narrow can turn this space into an oasis. In India's urban landscape, a balcony or a sun deck is a blessing. So why not get creative and imaginative and make an oasis out of this personal space for some quality 'me time'? Once the purpose of a balcony is set, one can decorate the space in a practical and tasteful manner, worthy of being Instagram-ready.
Pic 2 Suitable balcony furniture and colourful planters
A small sized balcony needs to have light-weight and can be folded and put away, when not in use. A foldable table can be fixed to the balcony railings at one end. When opened up, one can place coffee mugs or books as required at the time.
Will it me a Home -office set up? If so, a desk, chair, storage pace etc is required. need a chair and table. Electrical and broadband connectivity need to be ensured for this.
Pic 3 Home -office set up in a balcony 
For a peaceful seating space and to create a cosy corner, you could opt for placing a couple of comfy bean bags.
Lounge chairs, a bench, a cushioned chair or anything that you have can be an excellent addition to your balcony. The idea is to have a convenient and relaxed seating.
Another option is to have no furniture at all! Instead, choose a low seating. First, lay a rug or mat on the floor. Get your small mattress or place cushions and a pretty sheet. Choose the most colourful pillow covers and sheets and make the place bright and cheerful.
Pic 5 Pic 5.1 Boho Chic with colourful floor cushions 
Placing bright coloured floor cushions on a rug for a boho chic look. A couple of folding chairs without taking up space otherwise, provide lounging space. 
Floor tiles come in a variety of colours and patterns. Best to use water resistant variety and easy to keep clean at 
the same time. Tiles add to the attractiveness of a balcony, and a contrasting-coloured rug thrown on them adds vibrancy. 
Pic 6. A top shot of a balcony.
Tiles on the floor match the ones on the table top
Pic 7 Water-resistant tiles
Here too, the burnt – earthy coloured tiles are water resistant, can be kept washed and cleaned. The colour creates a nice contrast against the multi-coloured upholstered lounging chair. A simple balcony space can be transformed into a tasteful luxury space with bold patterns and vivid textures.
For a great atmosphere in the evening or night time, a string of fairy lights or bulbs can bring about a cosy and magical feel. Lanterns placed on the floor makes a perfect setting for a candle-light dinner.
 Pic 8 Fairy lights create atmosphere
Balconies can be used to grow herbs and organic vegetables, by using up the vertical space, instead of the limited floor space. These wellness- based features will grow in popularity, given the focus on health due to the pandemic. 
Pic 9 & Pic 10. Herb gardens and planters on vertical walls
Plants and greenery are a regular feature in almost all balconies. Plants not only refresh the atmosphere, greenery brings calmness. Bright coloured planters or even earthen ones, add to the cheerfulness, and people are drawn naturally towards their balconies. Sure-shot mood lifters.
Pic 11 & 12 Overhanging and bright coloured plants and creepers arranged to create a pretty picture 
Balconies double up as alluring sundecks where one makes full use of the glorious sunshine. However, it's better to have a sunshade or a beach umbrella to make time spent outdoors more comfortable. A railing privacy screen will block wind gusts and keep neighbours from looking in.
Pic 13 A cosy nook created in a balcony with blinds and privacy screens made of bamboo give a natural look along with the plants.
Small spaces such as balconies can be easily redone since there is mainly no heavy furniture or fittings. Changing soft furnishings, altering planter positions, adding lights, altering small light furniture and adding colourful effects can be interesting and fulfilling to create and recreate one's very own oasis. To unwind, find peace and calm and a sense of wellness is so important in today's times. A balcony can be a haven to seek all this out.