Fashion History Books You Must Read to Understand the Evolution of Fashion
Explore the Evolution of Fashion through these Must-Read History Books
Every fashion enthusiast would love to possess this smart history reads to augment their library. It brings spellbound charm to the style landscape that each fashion buff desires to grasp and skim.  
Here's taking a detailed look to consider a number of the simplest and best books which will assist you to  grasp the style history. These styles of the book highlight the fashion with various lenses. 
 1. The Golden Thread: How Fabric Changed History by Kassia St. Clair
The bestseller author with this rollicking narrative of the 30,000-year history of cloth briskly told through 13 magnetic episodes. The Golden Thread weaves a revealing story of human inventiveness.
2. The Battle of Versailles: The Night American Fashion Stumbled into the Spotlight and Made History by ROBIN GIVHAN, the Pulitzer Prize-winning author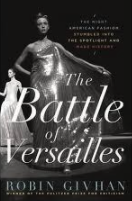 On Nov 1973, the world's social elite gathered at the Palace of Versailles for a global worldwide fashion  show. By the time the curtain came down on the evening's spectacle, history had been created and also the trade had been forever remodelled. This is often that story one should scan for being a fashion                                                                                                                       
3. Issues: A History of Photography in Fashion Magazines by VINCE ALETTI
For nearly a century, fashion magazines have provided refined platforms for avant-garde photography –work that challenges conventions and frequently reaches far outside the fashion itself. This book, acclaimed photography critic Vince Aletti has chosen 100 important magazine issues from his expansive. own archive, enlightening images by photographers hardly ever seen outside their novel context. With  his characteristic élan and featuring stunning images, Aletti has created a new, distinctive, and beforehand uncharted angle on the past of photography.
4. Dior Catwalk: The Complete Collections by ALEXANDER FURY
This classic publication opens with a succinct the past of the house of Dior before exploring the collections themselves, which are planned chronologically. Every new 'era' in Dior's history inaugurated by a short impression and memoirs of the new designer, while individual collections are introduced by a short text presentation their influences and highlights and illustrated with vigilantly      curated catwalk pictures.
  5. Gods and Kings: The Rise and Fall of Alexander McQueen and John Galliano by Dana Thomas
 In Gods and Kings Dana Thomas, author of Deluxe, enlightens the tale of how John Galliano and Alexander McQueen altered the countenance of fashion. Spanning the 80s and 90s, Gods and Kings tells the anecdote of these 2 fascinating figures and times of huge amendment in the world of fashion, from London's strident art and club scene to the old-world glamour and discloses the intrigues of this infamously uncommunicative trade.
6. The Glass of Fashion: A Personal History of Fifty Years of Changing Tastes and the People Who Have Inspired Them by Cecil Beaton
 The classic book presents the long-lasting photographer's knowledgeable and humorous reminiscences of the personalities galvanized fashion's golden eras, associated left an unerasable mark on his own sense of style and elegance. 
To learn a great deal of fashion and to understand its history much better read these books or feel free to contact our team of JD Institute of Fashion Technology to master the art of fashion management. Happy Reading!