Elevating Aircraft Interiors with Artistic Design
Art in Aircraft Interior Design: A New Perspective
Aircraft cabins, particularly private aircraft are increasingly being custom-designed to reflect the owner 's personal taste, and to take cabin comfort and luxe, to newer heights. Clients are now seeking the services of art consultants to help them build up a collection of certified artworks and install them in the cabin interiors, as per aviation safety regulations. Therein lies the challenge requiring a different type of specialisation. While creating these truly bespoke 'living spaces' out of cabin interiors, it is critical to incorporate 'aviation industry' accepted and approved levels of flammability, toxicity, weight, as also structural requirements.
The Role of Interior Design in Aircrafts
It all starts with designs envisioned by the designers and understanding project concepts. Artworks are developed once the ideas are presented and accepted, and are created to truly exceed client expectations. It's about pushing boundaries in aircraft interior design.
 Customised artworks are the best way to achieve a unique and out-of-the-ordinary look and feel, with heavy doses of aesthetics. To achieve this, is like bringing art and science together. Artistic vision is tempered with aviation industry expertise to make these artworks ready for use in the cabin interior. The result can be sheer luxury and a great atmosphere, without compromising on technical regulations mandated.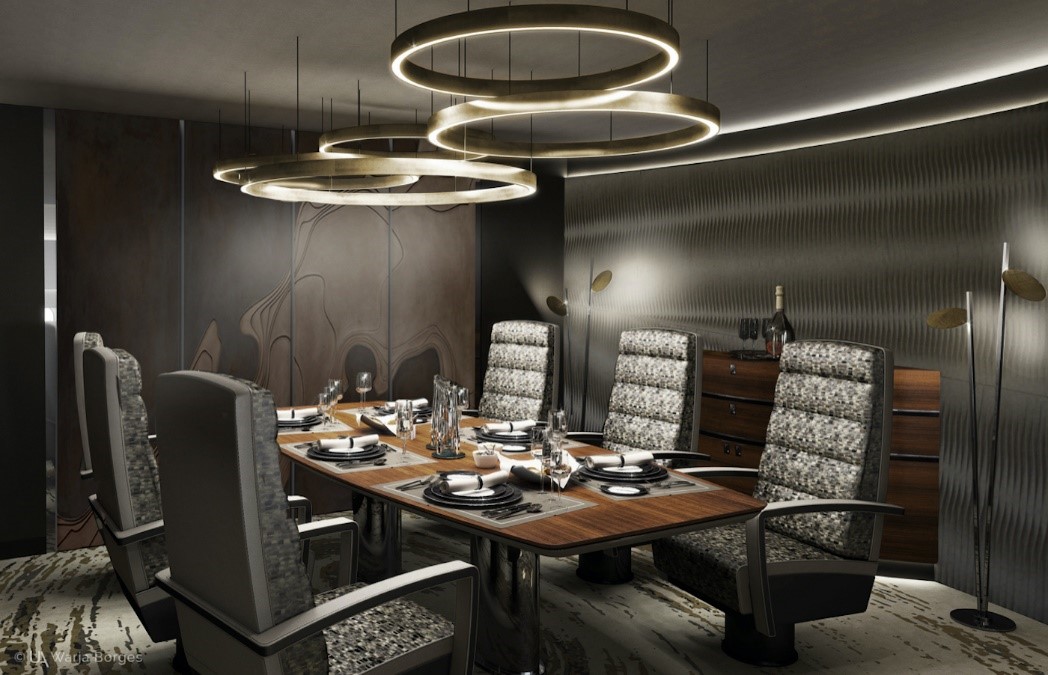 The Significance of Art in Aircraft Interiors
Onboard art collections are customised to blend in with the cabin interior through different spaces, such as lounge area/conference room/bedrooms/bathrooms. There are aircraft owners who may request for artworks for example done in French Impressionist style, adorning the wall panels inside a particular cabin space. Depending on the size of the cabin space, artworks are commissioned to fill up the required spaces. The result can be overwhelming and become conversation pieces, to marvel at.
Established art consultants Artelier, who specialise in aircraft cabin interior art and design, source out an eminent painter for their client. Having selected the most suitable artist for a commissioned job, Artelier work closely with the painter to ensure adherence to using only certified materials. For example, for one particular job, the painting surface which were curved wall panels, were created together with the manufacturer's  completion centre. These were then wrapped in specialist canvases to give a realistic look. 
Similarly, for an authentic Impressionist look as requested by the client, the art consulting company got the artist to adopt the impressionist 'impasto' technique (thickly layered paint applied on canvas). Since the paint and the quantity used had a bearing on the flammability qualities, a new paint mixture was developed and tested for several months including burn tests for in flammability and toxicity before use, post certification. Therefore, it's a fine line a consultant has to walk between delivering excellence in aesthetics, and obtaining regulatory certification. 
Exploring the Different Styles of Art in Aircraft Design
There are several areas on board the aircraft where artworks maybe used. Clients look at functionality and decorative appeal. These are TV rollers and sliders, and these have grown in popularity and so have use of artworks and blank IFE screens, which can be discreetly concealed by artworks. A high level of customisation calls for better medium of artistry like paint on canvas, instead of prints, for rendering art on TV rollers. Canvases offer flexibility in terms of being technically adapted for use in an aircraft interior and can easily be rolled or made to slide down the front of blank IFE screens. The roller mechanism makes these artworks movable as and when desired. Clients therefore appreciate the option of using them onboard and in more conventional ways, or 'as you like it'!
Feature walls are preferred choices as decorative elements with a focus on creating impact and atmosphere. By using customised artworks, after they are rendered aviation compliant possibilities of limitless refined aesthetics, open up. For this, consultants Artelier have developed Artist Walls, that create dramatic visuals in the cabin interiors. These are large scale works of bespoke art collections by leading contemporary artists that create striking wall finishes, as also become collectors' items.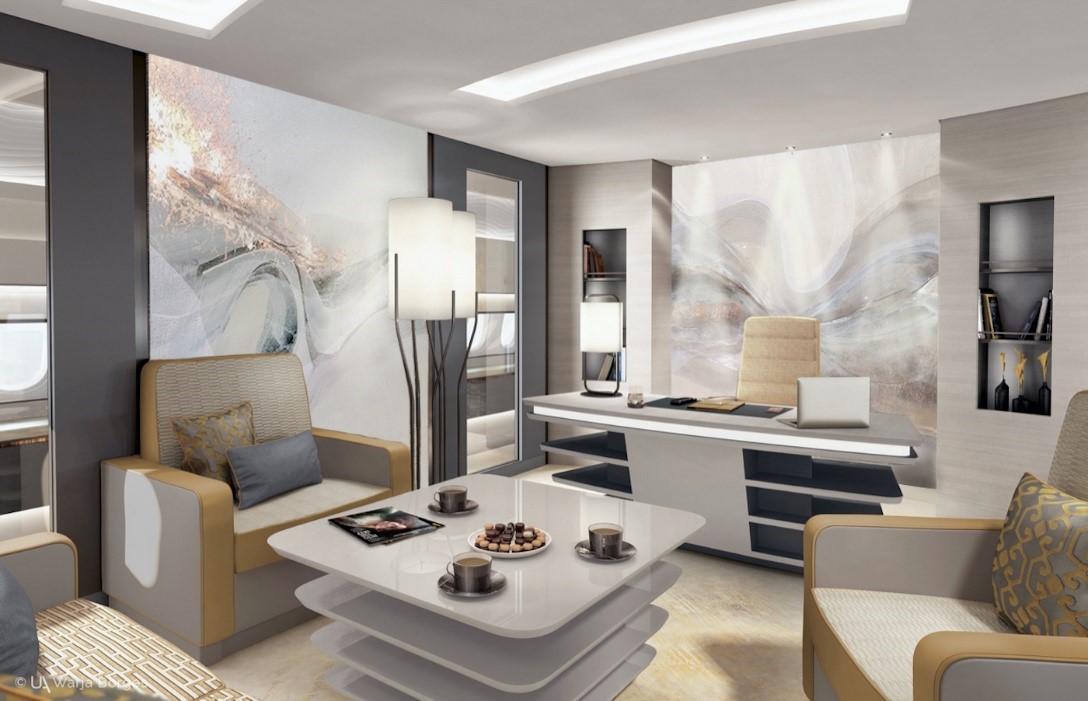 Creative possibilities of custom mural art, allow other applications on board an aircraft like a ceiling installation from gold leaf! Such a ceiling mural can span the full length of the aircraft.
Opportunities in Aircraft Interior Design
Private aircraft owners take pride in presenting a truly elegant and luxurious bathroom/washroom area. Just as this space allows rejuvenation, a tasteful décor can create a sense of calm. Therefore, custom art is an integral element of aircraft bathroom design, and are tailored to match the technical requirements of the aircraft, and the heat and steam of the wellness features. Consultants recommend the use of porcelain and ceramic artworks ideally, as they can naturally withstand moisture. For this reason, glass (aviation-grade glass) art is also an excellent option for bathrooms.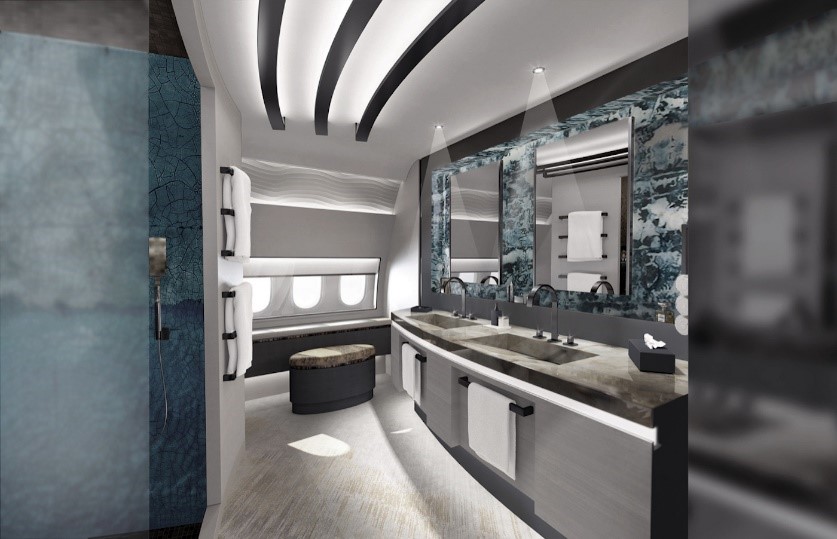 There are artists who specialise in working with aluminium panels. These panels are further coated with a bathroom-grade lacquer (aviation compliant for sure) to ensure longevity.
So specialised and detailed are the requirements of custom artworks for this unique space at 35,000 feet above ground, that for a perfect finish, 3D printing technology is applied to create frames for the custom artworks! With this, any type of frame can be recreated from aviation-grade materials. The material used is light in weight and finished with an aviation-approved lacquer.
For an owner's personal art collection to make it onboard, canvasses can be re-stretched on thinner, lighter aluminium boards, thereby making this proposition safe and suitable to adorn airplanes. Interesting times for private jet owners and art consultants alike.